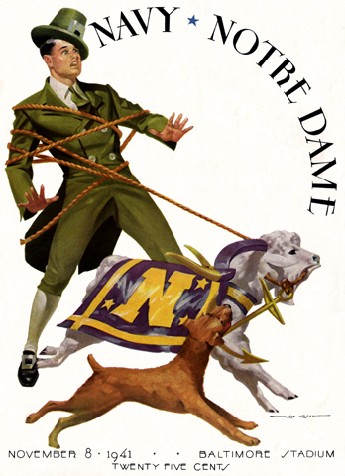 At the Navy, Notre Dame football game yesterday, I watched as Navy took a pounding the first quarter.  Notre Dame scored its first touchdown in two plays at the beginning of the game.  Finally, when the game got to 21-7 in favor of the Irish, I wondered why Patty and I were braving the cold to be there for Navy.  It just seemed that the much bigger Irish were going to outplay the Mids the whole game.  No doubt by the fourth quarter, Notre Dame would be giving its third string bench warmers some playing time.
But it didn't work out that way.  The Navy defense literally dug-in and would not give an inch to the much bigger Irish linemen.  An interception, some serious innovation in play calling by Navy, and all of a sudden it was 32 to 28 in favor of the smaller Navy team.
The Notre Dame fans around us (it seems no one told them which side was their side of the stadium) were stunned.  One fan summed it up — Navy just wanted it more.  None of them were going to the NFL, or even had thoughts of doing so.  All the players, the cheerleaders, and the screaming brigade of 4000 of their fellow midshipmen, were all there to become officers in the Navy and Marine Corps.
In the end, Notre Dame came back and won the game.  But it wasn't easy for them.  In the final few minutes, the Mids blocked a kick, reminding the Irish that this was not a cake walk.  At the end, the two teams embraced, and with the 4000 midshipmen and thousands more Navy alums like me in the stands, the Notre Dame and Navy teams together sang the Navy Blue and Gold.
What an emotional game, the way it was meant to be played.  A real win for the Irish.  A real game for Navy.